Proto-Melodic Comment Squad
monochrom had the idea to create a "Proto-Melodic Comment Squad" at the Chaos Communication Congress 2006 (23C3). So monochrom members Johannes G. and Roland G. were wandering around the Berliner Congress Center, playing the acoustic guitar, singing old songs (1, 2, 3, 4, 5, 6) and writing new ones.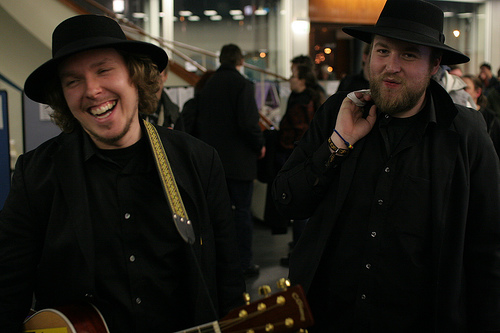 (Hooray, acoustic instrument / Image source)
Out of the new ones, the RFID song became rather popular, but here are some other examples.
Jake Appelbaum invited us to sing a song as the opening part of his talk about hacking Apple's File Vault.
Although we don't use Apple we decided to sing a love song for Apple.
So close no matter how far
Couldn't be much more from the heart
Forever trusting who we are
Oh fuck, I love Apple.
Never opened myself this way
Life is ours, we live it our way
All these words I don't just say
It different, it's Apple.
Trust I seek and I find in you
Every day for us something new
Open mind for a different view
A corporation called Apple.
So close no matter how far
It couldn't be much more from the heart
Forever trusting who we are
Oh my god oh my god oh my god... Apple.
(Melody: Nothing else matters)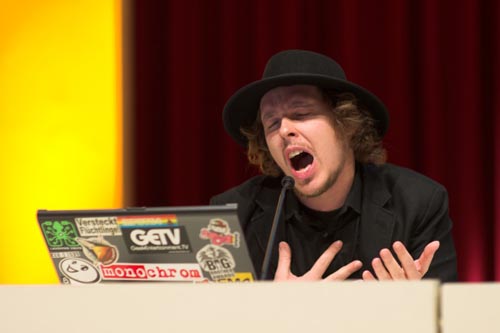 (Oh fuck, he loves Apple / Image source)
Preaching to the converted?
Well yes. Just a matter of style.
A discussion with Tina Lorenz about her presentation about tech/pornography and our plan to organize Arse Elektronika triggered the creation of a short verse in the style of old Austro-Bavarian "Gstanzl".
Das ist die geldgeile Pornoindustrie.
Da stellens 30-Sekunden-Movies hii.
Aber in 30 Sekunden komm i nie.
Da hilft nur loopen.
Und ganz viel Fantasie.
And now in English.
Greedy online adult industry.
Only 30-second clips are free.
But that's really much to short for me.
I need to loop them.
And lots of fantasy.
And a discussion about IT security ended with a chant based on Austrian songwriter R. Fendrich's cheesy 1980ies song "Ich bin ein Negerant".
Sie haben Win XP, Madame.
Da sag ich gleich "Oje!", Madame.
Ihr Rechner wird geowned, Madame.
Sie werden nicht verschont, Madame.
Setzen's ein Ubuntu auf.
Und treten dann Problemchen auf.
-- Nehmen's das in Kauf.

And now in English.
Your running Win XP, madame.
I tell you: you're not free, madame
Cause your're notebook will be hacked, madame.
I'm sorry, that's a fact, madame.

Get the Ubuntu start-up disk.
There might be problems, but less risk.
-- How extraordinary brisk.

While listening to Lawrence Lessig's talk we couldn't help but writing a couple of more lines. Johannes' handwriting is so terrible, that it was hard to decipher all the lyrics afterwards... but here are some results.
He is teaching at Stanford
He knows all about code
He is selling Creative Commons
He is giving the keynote
Lessig...
Lessig ist lässig [Lessig is cool]
He is talking free culture
He is rocking the house
He's the hero of jurisdiction
He's got a wireless mouse
Lessig...
Lessig ist lässig
He's wearing reading glasses
Of regular design
His powerpoint is perfect
And share alike is fine
Lessig...
Lessig ist lässig
His inbounds are growing
Thanks to Boing Boing.
(Melody: Life is Live, Opus)

The nice folks at Fumi TV put a couple of the songs online. And later (in November 2008) we created a video blog message for Boing Boing TV that featured the song.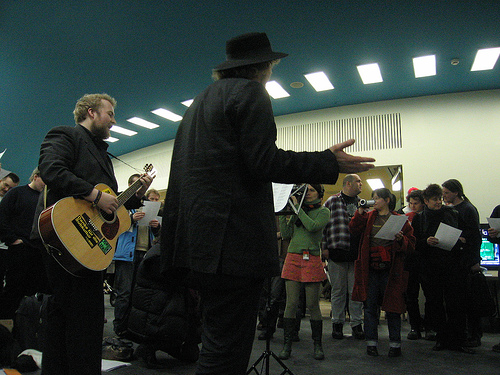 (Lessig ist lässig / Image source)
Johannes G. and Roland G.
monochrom's Proto-Melodic Comment Squad