Quality Viennese Holy Water
Information for costumers and potential franchise holders
Investigators in various European countries have found that the Holy Water in churches is more often than not of poor or even alarming quality. Authorities of the Roman Catholic church however, do not consider the results serious enough to warrant any actions, and are rather relaxed about the study. They point out that they have been conducting a large-scale experiment on human subjects that has spanned centuries now, and nobody has been hurt so far.
monochrom.at -- being a market oriented artist group that feels the need to achieve -- is not satisfied with a statement like this. monochrom.at has, therefore, obtained samples of Holy Water from ten selected Viennese churches. These samples have been mixed in correct proportions, purified from pathogens through distillation and osmosis, and then bottled in handy portions. monochrom.at therefore feels confident that they are offering not only the best Holy Water of all Vienna (city average) but the most aseptic Holy Water in the entire world.
monchrom is offering 20 vials (signed, dated) for sale, each containing 0.125 liters of purified Holy Water (city average) for E 44.95 per vial.

Are you interested in offering quality Holy Water in your home-town? Send an email to franchisewater water franchise.

All in all 2.5 liters of samples of Holy Water have been retained in the Viennese churches listed below:
Parish St. Stephan's Dome, Vienna 1
Parish St. Rochus, Vienna 3
Parish Wieden, Vienna 4
Parish Mariahilf, Vienna 6
Parish Votivkirche, Vienna 9
Parish Altsimmering, Vienna 11
Parish Hetzendorf, Vienna 12
Parish Neulerchenfeld, Vienna 16
Parish Hl. Kreuz, Vienna 21
Parish Wohnpark Alterlaa, Vienna 23

Example sample retaining, St. Stephan's Dome: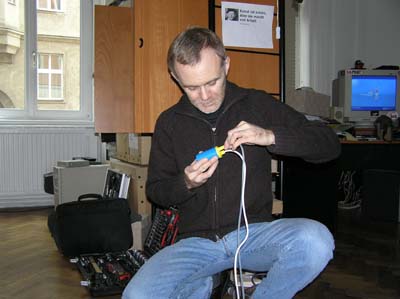 Franky Ablinger is checking the suction device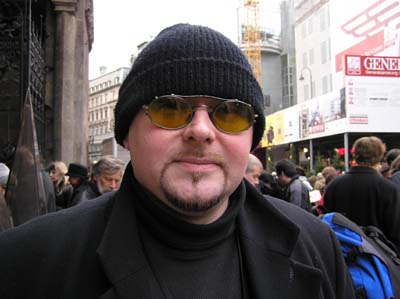 Günther Friesinger -- team-member -- in front of the Stephansdom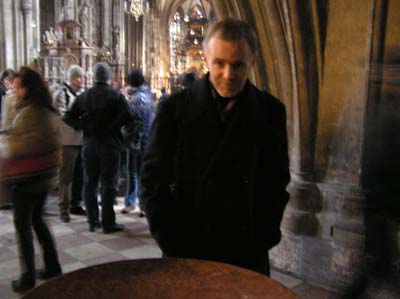 Franky Ablinger and the stoup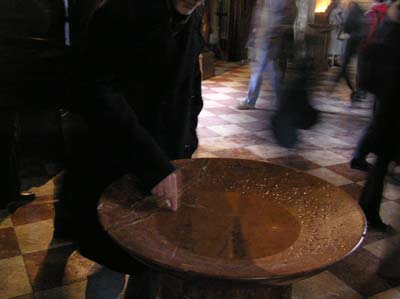 Positioning suction device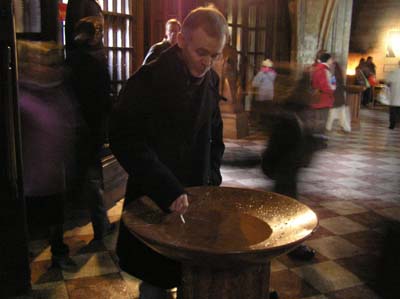 Pumping Holy Water into the bottle situated in coat-pocket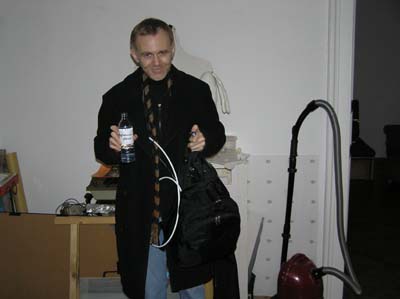 Collected Holy Water in Franky Ablinger's apartment

Wanna buy? Please contact water dept.
Wanna franchise? please contact franchisewater water franchise dept.

Since April 23, 2007 monochrom has an active business partnership with Liquid Cat, our Italian franchise holders. The franchise holder is already diversifying the future product line.