Die Gstettensaga: The Rise of Echsenfriedl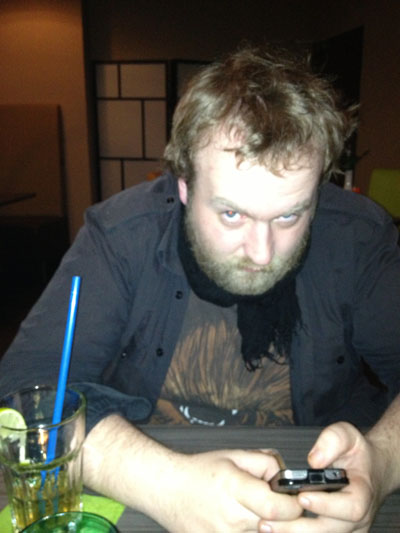 The movie's back-backstory
ORF III gave the OK to start production in late October 2013, with a fixed air date of March 10, 2014. Not a lot of time...
Some of the backstory of "Die Gstettensaga: The Rise of Echsenfriedl" was first created for monochrom's pen-and-paper role-playing theatre performance "Campaign" (Volkstheather, Vienna, 2006; Eastern Bloc, Montréal, 2010).

The actual script (including outlines of scenes for improvisation) was written by Johannes Grenzfurthner and Roland Gratzer (image above) in a couple of days in November 2013 -- mainly at the wonderful New Point Restaurant in Vienna. (Try their halloumi with teryaki sauce. And drink a lot of coffee.) The writing team also incorporated ideas that came up during their weekly meeting with the entire production crew.
"Die Gstettensaga: The Rise of Echsenfriedl" features dialogue in English, German, a variety of slangs, dialects, accents, and fictitious languages. Subtitles are an integral part of the story. As an example: 'Reformed Styrian' - the fictitious language spoken by Postal Officer Böllerbauer - is based on folks songs from the region of Anger, Austria.
The subtitles for dialogues in made-up languages were scripted during the editing process.

And the movie passes the Bechdel test, because of short dialogue between Alalia and Ayn. There you have it.