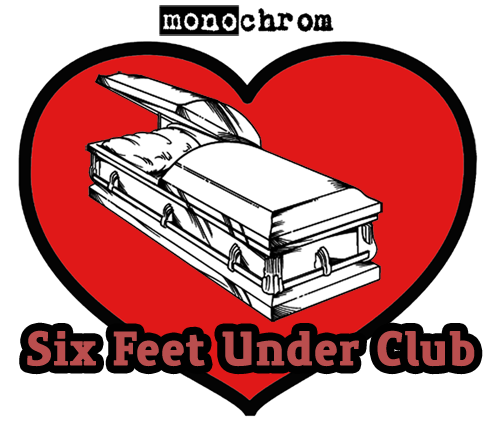 We want you to go down!

6fuc in Vienna, Austria
November 28, 2014; 7:00 PM
Inside Schwelle7 (Rotenlöwengasse 12 / Ecke Glasergasse 12)
In the age of data mining, a person's sex life may contain less embarrassing details than their web search history. Does it make sense that the former is a tightly guarded secret while the latter is shared with anonymous corporations daily? Even though a sexual nature is one of the few things most humans share in common, our social convention is to push all trace of it out of the public sphere. The Six Feet Under Club offers attendees a unique opportunity to experience the warping of public and private intimate space.

At monochrom's 6FUC events, couples can volunteer to be buried together in a casket beneath the ground. The space they occupy will be extremely private and intimate. The coffin is a reminder of the social norm of exclusive pair bonding "till death do us part". However, this intimate scene will be corrupted by the presence of a night vision webcam which projects the scene on to an outside wall. The audience will be privy to the scene inside, but the volunteers in the coffin will be completely isolated from them. The scenario keeps the intimacy of a sexual moment intact while moving the private act into public space. It can be seen as an absurd parody of pornographic cinema or an examination of the high value placed on sexual privacy. Either way, won't you become a member of the Six Feet Under Club?

Send us an email to reserve your time slot.



Previous 6FUC:
San Francisco, USA - 2010
October 2, 2010, 9:30 PM
Near Parisoma (1436 Howard St. at 10th)
Facebook event

Vienna, Austria - 2013
November 29, 2013; 7:00 PM
Inside Schwelle7
(Rotenlöwengasse 12 / Ecke Glasergasse 12)
Press about 6FUC San Francisco:
Carnal Nation (October 2010)
SFist (October 2010)
Daily Loaf (October 2010)
SF Weekly (October 2010, including video)
Rue Morgue (January 2011)
...and more...


monochrom: capturing life forces since 1993