"It's a bug hunt!!" auf der Website von 'The Art of Future Warefare'
Und wie! 'The Art of Future Warefare' stellt unseren kleinen Mash-Up vor.
Artists Johannes Grenzfurthner and James Brothwell from monochrom have taken the iconic M41A rifle from the 1986 film Aliens and placed it in the hands of a Muppet — Kermit The Frog. The incongruous 1950s style pop art drawing is titled It's A Bug Hunt — fitting given a frog's natural appetite and Kermit's origins in that post-war decade. Those who have seen the film will recall the memorable line uttered by the film's laconic Corporal Hicks, a United States Colonial Marine who sees through his commanding officer's spin on their orders to investigate some kind of alien life form, a xenomorph. In the end, the 22nd Century's most advanced weapons and fiercest fighters are no match for what they find.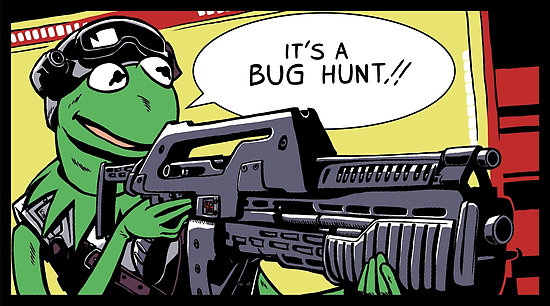 Link